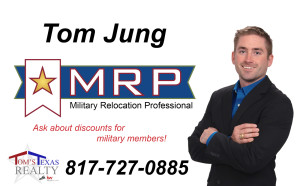 Tom Jung is a Military Relocation Specialist for the Fort Worth/ Mansfield / Arlington / Grapevine area and works with many active duty and retired veterans.
Whether you are retired or received a PCS we can help.  We understand that in many military careers relocation is based on the need of the service.
A lot of times military members are constrained by time to find a new home and want to make sure they find an affordable safe neighborhood. We specialize in this.
Whether you need to sell quickly or buy quickly we can help. When you start your search in the Dallas/Fort Worth area, be sure to contact us first and ask about our discounts for Military families.