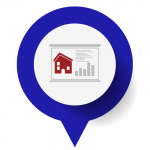 Free Home Value
If you want the quick and dirty number checkout Zillow. If you want a real Agent that knows the market and can value your home within 5% or less this page is for you.
The problem with Zillow is it's all algorithm-based and doesn't have all the data. If you've got a new community next to your older one it can skew values. If you back up to a tire shop or live on a busy street, it doesn't factor that in.
There are many reasons why you may want to know and all of these are good reasons we are happy to help with. We try to get our analysis out within 24 hours.
Please note if you have a unique house and want a very accurate evaluation, we may need a video call so you can show us your property.
Know your homes real value!