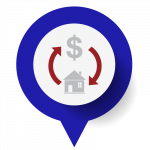 Off Market Properties
BONUS: Looking to buy a new home? Don't miss this #1 sure fire money-saving strategy:
A Tom's Texas Realty Group Exclusive Opportunity…
"Triple The Inventory" Buying Service
The FAST Way To Buy Your Next Home For Bottom Dollar
THE PROBLEM: "buying fast" and "bottom dollar" don't often go together.
In fact, many realtors will tell you that if you want to buy your next home quickly, you should make offers above the asking price. But that's not the only way.
At Tom's Texas Realty Group, we've always done things a little bit different. After 6 years as a top producing agency, we've perfected a way to effectively triple the available inventory you have to choose from – and in the process we've enabled hundreds of buyers just like you to get bottom-dollar prices on amazing homes, in record time…
Even in this crazy "seller's market" we live in today!
This is a formula no one else in our industry is using. In fact, we've been told we're crazy to advertise what we're doing and tell people about it for free with no strings attached.
However, we think it is unfair that so many prospective homeowners are being advised that they have to overpay for their next home if they want to buy fast.
Here's How Tom's Texas Realty Group
Helps You Buy Both FAST And CHEAP
By Tripling The Available Inventory
Exclusive Off Market Selling Program
We have an extensive network of sellers – even sellers who currently aren't "on the market" for selling their homes. This means these homes are not listed in the MLS, no other realtor or brokerage knows about them, and there is NO competition when you're making an offer.
All-Inclusive "Fix-Me-Upper" Program
You've probably considered buying a less expensive home that needs "some love" before… But you don't have the time or energy to fix it up yourself. That's where we come in. We'll help by telling you exactly how much it costs, and taking care of the details for you.
You get to enjoy a valuable home, for much less.
The Rent To Own Program
Maybe you're not in a position to get approved for every mortgage. If so, we'll help expand your options by giving you the opportunity to rent to own your very own home – FAST and easy!
Learn more about triple your buying options program!