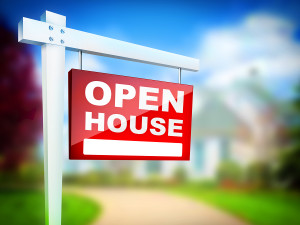 So you are thinking about selling your house on your own and want to hold an open house.  Great! This is a great way to generate interest and get the word out on your house.  As an agent I have a set way that I go about promoting the open house to drive more traffic and a system for following up with the guests that come through.
I was interested to see how a "For Sale by Owner" might go about holding an open house so I called an owner and asked to shadow them. I quickly found that there was no structure, she did not know what she was doing and only had one family stop by in an area where I would normally have 7-12.
In this post I'm going to go over some of the basics of what I do to help others that may be holding their first open house.
Open House Length
The first decision you need to make is when and how long to hold your open house.  Is Saturday or Sunday better?  In my opinion it's better to hold one both days. Your open house should only be 2 to 3 hours long. Otherwise you begin to waste your time.  If you market the open house well those who are truly motivated will make it in the time frame. I like to hold mine from 11am to 1pm to catch the early morning crowd and the after church crowd.
Marketing Your Open House
There are three ways people are going to know you are having an open house. They will find it online, by a sign while driving or by someone (you) tells them.
Online – You will want to make sure you have the open house listed online on the big real estate websites (trulia, zillow and realtor.com). It's a great idea to post your open house on facebook and boost the post as well. When you boost the post, target your neighborhood and people looking to purchase a home.
Signs – Next put some signs out but be careful. Depending on your city and location you may need to get a permit from your city to place signs.  I've had open houses where signs were put out an hour before and the city picked them all up before the end of my open house.  This happened to the lady I shadowed. She put 10 signs out two days before and the day of only the sign in her yard was left. Quick waste of $90.
Word of mouth – Get out and tell the neighbors! It's always good to let your neighbors know. You never know when someone has a relative or friend moving in to town and would like to keep them close.
Preparing the House
You want your house to be clean and presentable just like when that friend or family member you really want to impress is coming over.  Picking up everything off closet floors will make the closets look bigger.  Make sure to take down your family photos. You don't want the prospective buyers getting distracted from the home.
The Event
Do I walk people through my house? What do I say to them? Do I sell them? Everyone has a different style when it comes to holding an open house.  You will want a sign in sheet to collect names, phone numbers and emails of the people that stop in so that you can follow up with them. Place the sign in sheet somewhere close to the front door. You want to be able to greet people when they walk in and make sure they aren't leaving with any of your goods.
It's a good idea to have a handout with the specs on your house such as square footage, price, bedrooms and bathrooms.  I normally have so many people coming through the open house that I will ask them to sign in, tell them to take a handout if they would like and give them the highlights about your home and the neighborhood.
Conclusion
There are a lot of details that go into holding a successful open house.  This is meant to be a starting point for your open house.  Remember the goal is to sell your home, don't be afraid to ask people after they have seen the house, if they want to buy it. Good luck!