Welcome to Tom's Texas Realty! Throughout the process you will receive emails like this one from us outlining the current progress of your home purchase. We will highlight some key points that are important. Please do read all of the email and watch the videos we send. This will answer a lot of questions you have a may not have known to ask.
At this point we are at the beginning of the process. You should be pre qualified with a lender, or in the process of. You should be receiving emails from us on a daily basis of anything that meets your search criteria. Let us know if there is a property or properties you would like to view. We will also let you know if we see something that might fit your needs.
Once we find and visit a property that you want to buy, we will write up an offer.  We will do all the research on comparable properties, send you all the information available to us such as the Sellers Disclosure and discuss what the house is worth and what kind of offer it will take to get the house. These may be two different numbers.
Our goal is to get you into a home that fits your needs at a good price within your time frame with the fewest hassles. Part of reaching this goal is writing an appealing offer. There are many factors other than the purchase price that can make your offer more appealing. We will discuss these items when putting together the offer. For now I want to make sure you are aware of two very important sections of the contract because they are going to directly affect your pocket book when your offer is accepted. I'm referring to the Earnest Money and Option Money.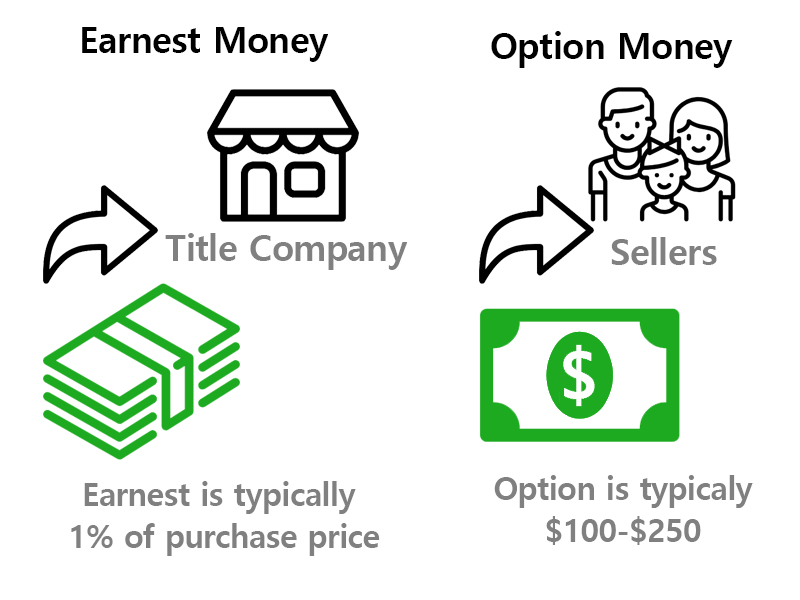 You will write two checks upon the seller accepting your offer. The first will be the Earnest Money. This is typically 1% of the purchase price of the house. For example, if the house is $200,000, your earnest money would be $2,000. This is deposited within 3 days with the Title Company. This shows the buyer you are serious about buying their house.  The second check is Option Money. This is typically $100-$250 depending on the cost of the house. This is given to the seller and deposited immediately. This gives you the option to inspect the house and ask for repairs.  Should you back out during the option period, your earnest money will be refunded. If you were to back out after your option period, more than likely you will forfeit your earnest money.
Both your Earnest and Option Money is applied towards the purchase of your home.
For a list of expenses when buying a home, you can download our Buyer Expense Worksheet.
Read ahead to the next step in the process